Golf for women have come a long way since the sport's inception. The number of female professional golfers, who respect golf etiquette rules, is rising each year, and with that, the need for specialized golf equipment designed specifically for women has also increased. This article will discuss some of the best stuff for women in golf players, including grips and accessories.
What are some key considerations when choosing women's golf clothing?

Comfort, flexibility, breathability, and adherence to the dress code of the golf course.
Are there specific brands that specialize in women's golf clothing?

Yes, there are several brands that specialize in women's golf clothing, such as Nike, adidas, PUMA, Under Armour, and Callaway.
How do women's golf clubs differ from men's golf clubs?

Women's golf clubs are often designed with lighter shafts and smaller clubhead sizes to accommodate differences in swing speed and strength.
Are women restricted to using women's golf clubs?

No, women are not restricted to using women's golf clubs. They can choose to use men's or unisex golf clubs based on their preferences and performance.
What should women consider when choosing golf balls?

Women should consider their swing speed and skill level when choosing golf balls. Some manufacturers offer golf balls designed specifically for slower swing speeds.
What should women wear on the golf course?
Female golfers attire consists of collared shirts, trousers or skirts, and appropriate golf shoes. It's also important to have the right set of grips that are best suited for a woman's hands and other accessories such as a Golf hat, visors, and polarized sunglasses that can help make the game easier and more enjoyable.

Let's take a deeper look at what women wear to play golf:
Tops
You can never go wrong with any collared shirt, polo shirt, or polo shirt without sleeves, all in a light and breathable fabric. You can have a golf jacket, vests, long-sleeved shirts or sweaters for laying up. It is important that the clothes fit properly and don't interfere with your swing.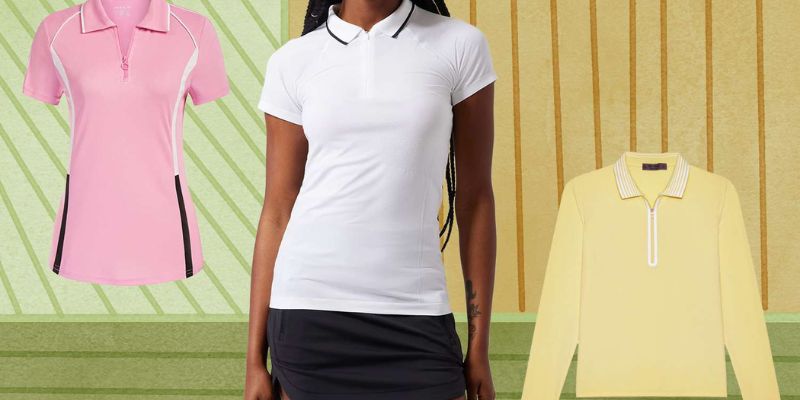 Bottoms
Women usually wear tailored trousers, skirts or shorts while playing golf. The shorts and skirts should be fitted and reach mid-thigh level. They should be no shorter than four inches above the knee for men and five inches above the knee for women. They have prints or patterns but should not be too bright and flashy.
The trousers can be either tailored or loose, depending on the weather conditions and your preferences. Women's golf trousers are engineered to provide comfort and mobility.
Golf Shoes
Women's golf shoes have been specially designed to provide optimum stability, grip, and comfort. They are typically made with breathable, water-resistant materials. The shoe soles should be flexible and provide good traction on the golf course. They can be spiked or spikeless for maximum grip on the ground. Spikeless shoes are great for the summer, as they provide extra grip without leaving any marks on the course.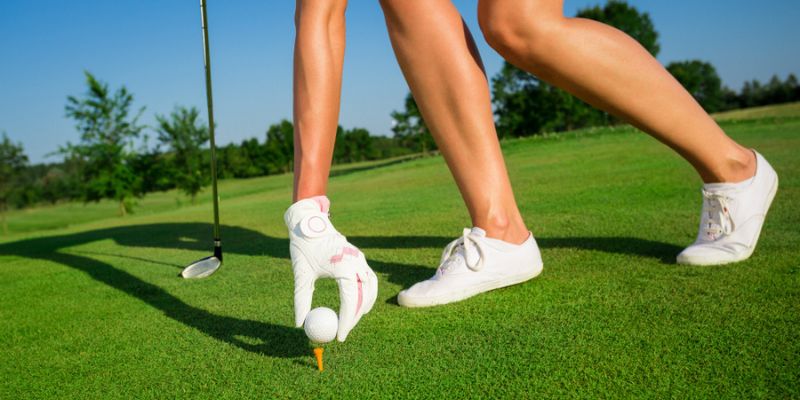 Golf Accessories
Golf hats, visors, and polarized sunglasses are must-have accessories for women in golf. Hats provide extra protection from the sun while allowing you to keep a cool head. Visors are also popular choices and can be used to keep your hair out of your face while playing. If you prefer a hat or a cap, ensure it's lightweight and breathable.
Polarized sunglasses are essential to reduce glare and keep your eyes safe from the sun's harmful UV rays allowing you to see the ball better. Your earrings and necklaces should be small and simple. You can wear a stopwatch to keep track of your time and an umbrella if the weather is unpredictable.
What to avoid wearing on the golf course
Women should avoid wearing anything too tight or revealing on the golf course. Jeans, miniskirts, tights, running shorts, and sleeveless tops are not in the accepted dress code. Shoes should also be comfortable for walking long distances on the golf course.
Best women's golf clothes
The best women's golf clothes should offer maximum comfort and flexibility. Golf tops should be lightweight but also provide a bit of coverage during cold weather conditions. Women's golf trousers should fit properly and come in a variety of styles, such as cropped trousers, skorts, tailored trousers, and shorts. The fabric used for the clothing should be breathable with moisture-wicking technology to keep you cool and dry during the summer months.
When it comes to golf women's dress code, there is certain etiquette that should be observed. Collared shirts, polo shirts, sweaters, and jackets are all acceptable attire on the golf course as long as they fit properly and don't interfere with your swing. Shorts should not be too short or too tight, and skirts should reach mid-thigh level. Hats with a visor or brim, sunglasses, and comfortable shoes should also be worn while playing golf.
Best women's golf clubs
Golf clubs are a necessary part of any golf bag. Best women's golf clubs should be specially designed to fit their bodies and swings. The length of the club should be slightly shorter than men's clubs, and the shaft's flex should be slightly softer. Women's golf clubs for beginners and others are usually designed with lighter-weight heads for increased control and accuracy.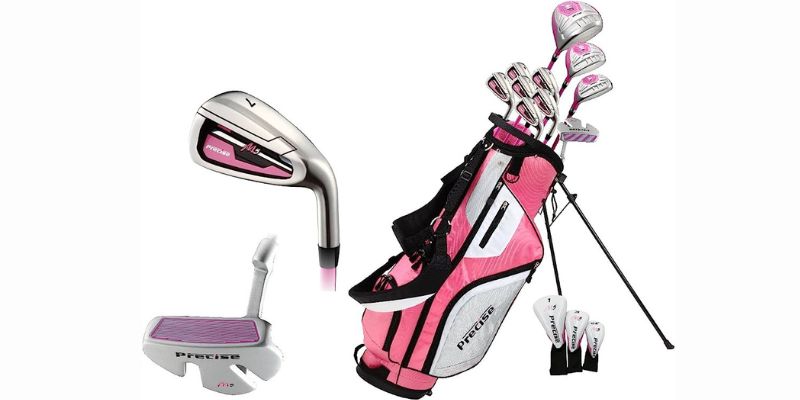 Women can use men's golf clubs, but it is not recommended as they are usually too long and heavy for an average woman's body. However, if a woman is tall enough and has good swing speed, then men's clubs can be used. It is best to find a golf professional who can assist you in selecting the most suitable clubs and grips for your golf game.
In most cases, women's golf clubs tend to have shorter shafts, usually 1/2″ shorter than men's clubs. The lighter weight heads allow women to generate more club head speed and hit the ball farther with less effort. It's your height and the length of your arm that should be considered when selecting the ideal length of your golf clubs.
Grips are the other essentials that have a major impact on the quality of your shot. Women's golf grips are designed to be a bit smaller, softer and more flexible to accommodate the size of the hand. Women's golf grips are specifically designed for ladies, providing both a tactile and secure grip. They are usually made of soft rubber material to provide extra cushioning while ensuring a firmer grip.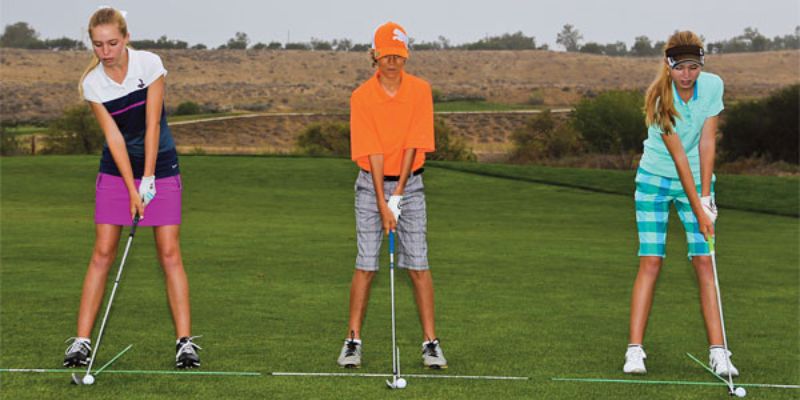 Best women's golf balls
Golf balls are the most important piece of equipment for any golfer. Best women's golf balls are designed to have a slightly lower trajectory than men's balls to take into account the difference in swing speed. The covers are soft enough to provide extra distance without sacrificing accuracy and spin.
Also, take a look at the packaging. Women's golf balls usually have pink or purple coloured packaging, while men's golf balls usually have blue or black packaging. The women's ball logo will also usually have a female golfer silhouette.
Women in golf – Conclusion
Women in golf have many choices when it comes to equipment, clothing, and accessories. It is important to find the pieces that are most suitable for your body type and playing style. The key is to find the pieces that will maximize your performance and make you feel comfortable on the course. With the right equipment, clothes, and accessories, women can enjoy a great game of golf without compromising their style.